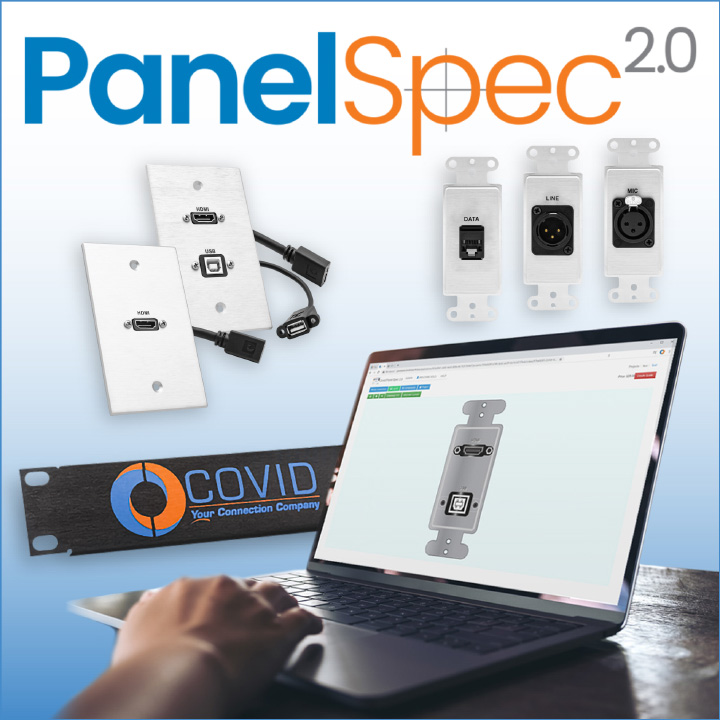 Custom Wall Plates and Rack Panels
Design your own custom AV wall plates and rack panels
anytime, anywhere with Covid's Panel Spec 2.0
Easily design, layout and prepare cost estimates for custom AV wall plates and rack panels. Covid's Panel Spec 2.0 panel building software allows users to design and quote projects on a PC or compatible device from anywhere they have an internet connection.
Choose from a large variety of connector types including feed-through, keystone, solder and pigtail. Name brands include such options as Neutrik™, Switchcraft™, Leviton™ and Covid's own extensive line of connectors. Panels are manufactured in either aluminum or stainless materials and are available in standard sizes as well as custom configurations. Finishes include anodized or powder coat and are available in a variety of standard and custom color options. All of our plates and panels are manufactured here in Tempe, AZ.
---
Plate and Panel Design Process
After logging in, it's as simple as 1, 2, 3. Covid's Panel Spec software is highly streamlined and easy to use, allowing you to assemble a complete plate online in minutes.

---
Direct Graphic Printing
Print custom labels or branding on your wall plates and rack panels with Covid's state-of-the-art full-color graphic printing capabilities. Design panels with your company's logo and contact information for custom installations. Download graphic specifications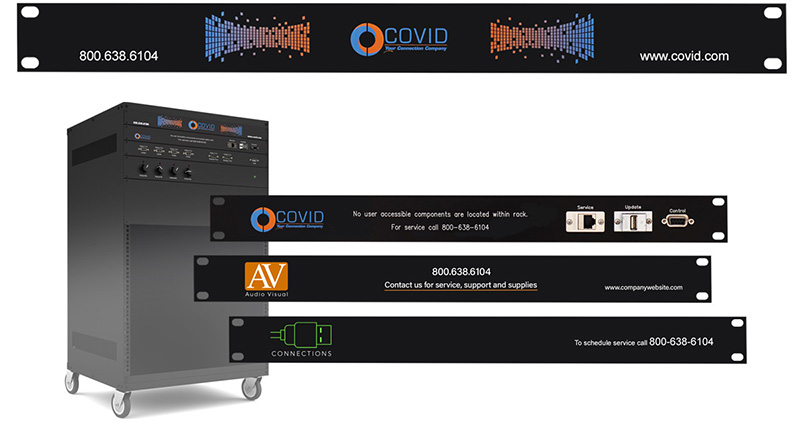 ---
Panel Spec 2.0 Software
Important Notes:
Panel Spec requires seperate login credentials than the Covid website.
After you sign up for Panel Spec, please allow up to one business day for your account to become active. Once approved, you will receive a confirmation email from Covid.
If you need help, please contact us
Panel Spec 2.0 Features:
Online Access: Login anywhere anytime.
User Library: Create a custom online library of your custom audio-visual wall plate and panel designs
Standard Covid Templates: Easy point-n-click system includes Covid standard plate templates and connectors.
Real-Time Cost Estimate: Covid Panel Spec 2.0 automatically calculates the price as you add custom plates and connector configurations
PDF and CAD Formats: Save your drawings with pricing, parts lists and connector images to simplify approval process
Final Quote: Submit final quote with just a click of a button
Recommended System Requirements:
Windows 10, 64 bit
1.5GB Free Hard Disk Space
8GB RAM
Internet access (for installation/updates/web services)
MS Excel for accessing Product Attributes spreadsheet
Mac OS (Requires a Windows emulator such as Parallels or VMWare Fusion or Intel-based Mac running Boot Camp
---
Original Panel Spec 1.0 Software
Download Panel Spec 1.0 Installation Software
Note: This link will download the installation software. The file will be downloaded to your standard download location. Once downloaded, double click on the file to start the installation. If the file does not automatically download, right click on the link and choose 'copy link address'. Paste the link into a new browser window and the file should automatically download.