Covid Product Resources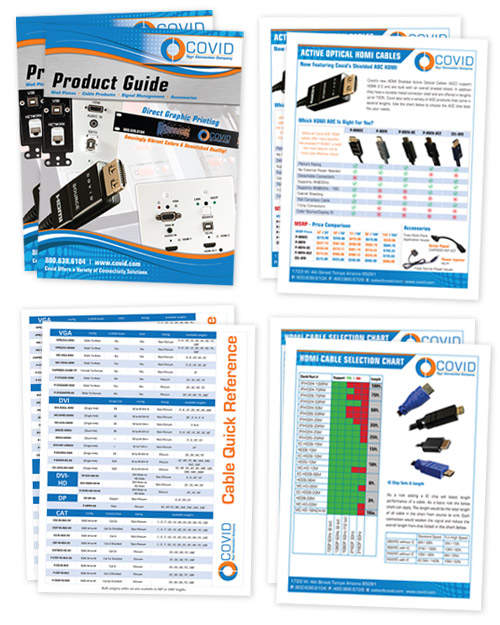 Cable Assembly Product Quick Reference Chart

This is a quick and easy two-page chart showing most of our popular cable assembly products. It contains all the important information about each cable including lengths offered, ratings and resolution capabilities.

---
HDMI Cable Selection Chart

This chart allows you to see all our HDMI cable solutions at once letting you quickly decipher resolution capabilities of each HDMI cable.

---
HDMI AOC Comparison Chart & Troubleshooting Information

One of Covid's most popular products is the Active Optical HDMI cables. Use this chart to easily determine which AOC cable is right for your needs. It also offers some handy troubleshooting information.

---
Wall Plate Color Options

Covid wall plates are offered in several color choices and many custom colors are also available. Use this page to get an idea for which colors would work best before you order.

---
Latest Product Guide

The Covid Product Guide offers a brief overview of our products. It showcases our new items, core product lines and some of the services we offer. It is updated a few times throughout each year.

---
Covid One-SKU Program

If you need to continuously order multiple Covid products that are used together, One-SKU may help make the ordering process easier.

---

The Covid YouTube Channel

Our YouTube channel is where we post product videos, tutorials, and other informational videos about Covid.

---
Latest News and Press Releases

If we have news to share this is where you will find it. This section of the site offers Covid company news and new product releases. Our news is also syndicated to many well-known A/V news websites and resources.

---

Cleerline SSF Instructional Videos

Covid is a proud distributor of Cleerline products. These are some videos tutorials on terminating your own fiber cables using these products.

---

How to Become a Reseller of Covid Products

If you're interested in becoming a Covid reseller, distributor or dealer we make the process easy.

---
Manuals, Spec Sheets and Other Product Information

You will find most manuals, specification sheets and other downloadable information on each individual product page of our website. We make every attempt to have our products easy to find. Browse the entire Covid online product library or start your search here.

Still can't find what you need? We're here to help.
Contact Covid Sales Support, Customer Service or Technical Support for more help.